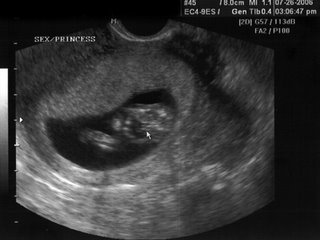 What a wonderful visit this one was!! Mary, our great ultrasound technician, was determined to find out the gender today!! My mother in law was there today, which made it great as well. We proceeded with the ultrasound. At first our child was sleeping and very still. Well we woke it up, and it danced all around and moved for Mary. Well, after about ten minutes, she figured out the gender! Do you want to know? Well read on! Here we go! No more calling it, an it! We are officially having a girl! Something BOTH of us wanted for a long time! Our prayers have been answered! She showed us what to look for, and without a doubt, its a girl! Woo hoo!!!!! One more thing, Mary said the baby looks perfect. The spine is perfect. Head is perfect. We even saw her hands and feet in the ultrasound!
After the ultrasound, we went to see the main doctor. Evans this time. He is so damn cool. He told Kelly things look perfect. Kelly had some slight concerns with the weight loss, but Evans said "your fine!!" and said she will gain some weight very soon! He then put this cool microphone/doppler instrument to Kelly's belly, to hear the baby, and we heard a strong heartbeat!! What a sweet sound it was!! He examined her quickly, and took a look at the ultrasound pics, and said "See ya in four weeks!!" And gave us a clean bill of health!! Awesome stuff!!
So, four weeks from now, we get to video the ultrasound! Thats gonna be awesome! We also get to video the next ultrasound with the high risk doctors!
Her name is officially Olivia Beatrice (Beatrice after Kelly's grandmother).
--
This Visits Stats:
Age - 13W 5D today
Size - 7cm
Heartbeat - 172bpm
Weight - about the weight of a few quarters
Wanna see more pictures? Click here